EMBROIDERY
Gamma Industries is globally known as the largest manufacturer of multi-head embroidery, consisting of more than 3000 Tajima embroidery heads. All of the machines are of latest technology and are equipped with the following facilities: 3D patches, appliqués, laser engraving, sequin, coiling, cording/taping, and chenille heads. Gamma also provides combinational techniques of embroidery on a single design.
With our machines fully equipped with a head locking provisions, we therefore, are not restricted by the width and length of the design; this provides us with the capability to produce emblems with 18 colors for normal embroidery and 6 colors for chenille embroidery. Our company facility does not restrict us from doing sequin embroidery of any sizing, with 4 different colors and 4 different sizes in one design.
The embroidery finishes offered are:
Stitched Border
Marrow Border
Raw Fabric Border
Laser Cut Border
Backing types offered:
Plastic Backing
Heat Seal Backing
Pressure sensitive backing
Non-woven backing
Industrial backing
Velcro backing
We also are the leaders in combination embroideries with a wide selection from chain stitch, chenille, taping, coiling, laser bridging, and cross stitching.
REGULAR EMBROIDERY
These emblems are made with 100% rayon or 100% polyester yarn. These emblems are used for various day to day applications.
Regular emblems can be made on all types of fabric, and backing. Backing such as: Iron on backing, plastic backing, pressure sensitive backing, and with decorative/over-edge border backing.
We can even supply patches with a combination of woven label and embroidery. This gives a more precise and clear finishing for small letters.
SEQUIN EMBROIDERY
Sequin embroidery will provide customers with gorgeous, bright, colorful, and excellent color appearance.
Gamma Industries ensures that its entire sequin rolls and tapes are made from environmentally friendly materials. Our company facility does not restrict us from doing sequin embroidery of any size, with 4 different colors and 4 different sizes on one design.
This special type of embroidery is suitable for all types of clothing apparels, including high-end fashion accessories, children's wear, and leisure wear etc.
CHENILLE EMBROIDERY
Our chenille embroidery are made with 100% acrylic yarn on any base material. We can do multi color chenille emblems up to 6 colors in one design.
The main characteristic of this design is the puffy look that comes from the process of thread pulling and twisting.
Note: Generally these emblems do not come with heat seal backing, the reason is, when these emblems pass through the heat seal machine the yarn gets pressed and result in losing the puffy look.
CROSS-STITCH EMBROIDERY
Our machines allow us to apply the finest, delicate cross-stitch technique on to your provided fabric. The advantages of applying or creating cross-stitching patterns through machines are:
Larger output and quicker production when compared to handmade
Cheaper price when compared to handmade
And lastly, good finishing
CHAIN-STITCH EMBROIDERY
This type of embroidery will provide customers with a chain shaped embroidery. This is perfect for designs focused on a vintage theme, or for customers that are looking for an alternative/innovative look for their product.
COILING EMBROIDERY
This form of embroidery gives out a 'Wire look," similar to a look of electrical wires running through a piece of fabric. This can be done with many types and colors of yarn.. The end product of coiling of embroidery, presents the customer's design in a three dimensional appearance and texture.
Coiling embroidery is highly suitable for collar and sleeve areas, on lovely evening dresses and high end fashion wear.
TAPING/CORDING EMBROIDERY
This form of embroidery comes in the shape of cords that run on the design continuously giving it a floral design look. This specific type of embroidery can be done on fabrics as well as garments. It enhances the overall perceived value of the product. A very popular design of this type of embroidery is the shape of a rose (red color tapes), creating a three dimension floral look.
GARMENT/APPLIQUE EMBROIDERY
Our skills, techniques, and well trained staff allow us to do direct embroidery on garment pieces (front, back, or sleeves). We can do up to 18 different colors per design. We believe in increasing the value for our garment customers through focusing on high quality embroidery on the delicate pieces of garment.
FABRIC EMBROIDERY
Gamma Industries professionalized in high-end allover multi-head embroidery on outerwear fabrics, innerwear fabrics, and all types of upholstery.
Our strengths arise from decades of experiences in addition with the latest technological and sophisticated fully equipped machines. Furthermore, our growth in this business unit is a result of continuous upgrades and improvements of the machines, in order to satisfy our expanding markets and growing customer base.
With our professional in-house designing system and the use of the latest technology, we ensure an exact replica of your artwork and sample. In addition, with the leadership professionals on the production team; we ensure excellent quality products, a high production volume, and all available at a competitively affordable price.
Our competitive advantage:
We can do up to 18 colors
Our ability allows us to combine different embroidery techniques to be on one specific fabric. i.e. sequin, lurex yarns, chain stitch, chenille, cording and etc.
We can do sequin embroidery of different sizes (3mm, 5mm, 7mm, 9mm), shape and in eight different colors at once.
We do embroidery on fabric up to 3 meters wide
No limits in lengths
Gamma Industries specializes in embroidery on all types of fabrics ranging from the finest organza, silk, mesh, tulle, knit fabrics, to cotton voiles, denims, twill, and etc.
In addition, our production quality can range from the regular to the most delicate quality, depending upon the customer's request. And we use various threads such as Polyester, cotton, acrylic, rayon, and etc.
* All of the items shown here with registered trademark and logo strictly for demonstration purposes only and are not available for sale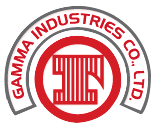 Customer's Satisfaction is Our Top Priority
Your Success, is our Success!